Top 10 SCM Technology Providers - 2021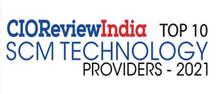 Supply Chain Management (SCM) market size is expected to grow from $23.2 billion in 2020 to $41.7 billion by 2026, at a Compound Annual Growth Rate (CAGR) of about 10 percent during the forecast period. The growth of SCM market is attributed to the demand for greater visibility and transparency in supply chain data and processes, high growth in e-Commerce, increasing adoption of cloud supply chain management among SMEs (Small and medium-sized enterprises) and enhancing business continuity by minimizing potential failures. With advancement in technology, the SCM industry is also evolving. Integration of Artificial Intelligence (AI) with SCM would open a wide range of opportunities for vendors. The cloud-based segment provides numerous benefits such as reliability, scalability, integrated design, cost-effectiveness and immediacy over the traditional SCM model to industry verticals.
In addition to the factors like development of industrial-grade digital technology, surge in need for improved supply chain visibility, and increase in inclination towards cloud-based supply chain management software, the surge in need of demand management solutions among enterprises and increase in adoption of SCM software in healthcare and pharmaceutical companies are also driving the growth of the industry.
Understanding the need of the hour and studying key progressions and developments in SCM technology and solution sector, team CIO Review India has come up with a list of 'Top 10 SCM Technology Providers - 2021' who have proved their proficiency in the sector with a deep knowledge in technology. The following list is prepared by a closely scrutinized panel of judges consisting of CEOs, CIOs, CXO, analysts, and our editorial board. We believe that these solution providers will help in transforming business processes through their significant expertise and knowledge.
We present to you CIOTechOutlook Top 10 SCM Technology Providers - 2021.
Top 10 SCM Technology Providers - 2021
| Company Name | Company Description |
| --- | --- |
| Blume Global | Offers a digital platform for supply chain execution for disruptions and react forecast with real-time solutions of finance, artificial intelligence, machine learning, big data, and IoT |
| | |
| --- | --- |
| Exactus Systems | Positioned as a dedicated SCM & Logistics software solution provider and aspiring leader in the Indian SCM software market |
| GEP Worldwide | Renowned for offering topnotch solutions for supply chain management such as Procurement Strategy, Strategic Sourcing, Procurement Consulting, Supply Chain Management, Category Management, Sourcing... |
| Holisol Logistics | Solving challenges in supply chain management with end-to-end solutions such as Logistics Management, Digitizing Supply Chains, Supply Chain Consulting and more |
| ImpelPro SCM Solutions | Supply chain solutions provided in supply chain operations consulting and supply chain operations execution |
| Procol | Offers intelligent data solutions which are ardent of cost decrease, digital procurement, and compliance efficiency for supply management |
| RFXCEL (Part of Antares Vision Group) | A software solution provider helping companies build and manage their digital supply chain at lower costs by enhancing Product Protection and Brand Reputations for its clients |
| Simext Technologies | Offering an array of services in the areas of inventory tracking, WMS software, 3PL WMS and more |
| Soft Freight Logic | Involved in digitally elevating freight forwarding business growth by providing client-facing tools, consultancy, and support on ERP |
| TrayamBhu Tech Solutions | Offers Software publishing, production, supply & documentation, software consulting, operating systems software, business & other applications software, computer games software and more |