20 Most Promising Supply Chain Management Solution Providers - 2018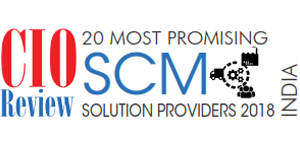 India is fast becoming a global manufacturing hub owing to the escalating demand in the domestic and international markets. Increasing competition, due to globalization Iis propelling Indian industries to proffer cost-effective quality output clubbed with strict delivery schedules. Issues in the supply of compromised quality, unwarranted cost escalation, delayed supply and so on would negatively impact the credibility as well as the business potential of the Indian industry.
In such a competitive scenario Supply Chain Management (SCM) plays a pivotal role as organizations are challenged with searching for various ways to meet and exceed the ever increasing customer expectations at a reduced cost. To do so, organizations need to conduct a study and map out exactly which parts of their supply-chain process are not competitive, gauge which customer's needs are not being fulfilled, set improvement goals and quickly adopt the required improvements. Organizations are on the lookout for vendors with the perfect blend of the right SCM solutions and industry rich knowledge to work with, that are perfectly poised to help achieve their set business goals.
Perfectly understanding what every organization is looking out for, CIOReview comes to the aid with a comprehensive list of "20 Most Promising Supply Chain Management Solution Providers". This go-to list will assist organizations to help achieve their business goals with the assurance of quality and better customer service. In essence, this list features an inventory of leading-edge vendors extending their services to facilitate their clients with an all-encompassing suite of novel solutions and their deep expertise gained in this domain. The vendors in this listing have been meticulously selected by a renowned panel of CEOs, CIOs, industry analysts and CIOReview editorial team.
We present to you CIOTechOutlook 20 Most Promising Supply Chain Management Solution Providers - 2018.
Top Supply Chain Management Solution Providers
| | |
| --- | --- |
| AARMS Value Chain | Provider of solutions in Supply chain, Procurement, Fleet Exchange, Fleet Optimization, C-form Management, Customer Support and more |
| Blue Bird Technologies | Provider of E-Business oriented Supply Chain solutions |
| breakWalls Technologies | Provider of a suite of solutions that enable a system based integrated plan-execution tracking |
| FarmGuide | Provider of digital solutions for all stakeholders in agriculture |
| FrontalRain Technologies | Provider of Social, Mobile, Analytics & Cloud Computing Software for Food and Agribusinesses |
| iGUID | Provider of Oracle eBusiness Suite of SCM (R12) family of applications |
| Linked | Provider of solutions for supply chain optimization |
| Logixgrid Technologies | Provider of SCM solutions combining Cloud Computing and cross-platform Mobile App Design |
| NexInfo Solutions | Provider of Supply Chain Optimization solutions that are based on Oracle's VCP or SAP APO |
| ODeX India Solutions | Provider of an Online Platform for Shipping Documentation |
| OpenPort | Provider of blockchain-enabled ePOD (electronic proof-of-delivery) solution |
| Opex Analytics | Provider of supply chain optimization solutions |
| Qlikchain | Provider of solutions for supply chain provenance on Blockchain |
| Sofocle Technologies | Provider of a Blockchain-based solution for supply chain management |
| Stellium Consulting India | Provider of end-to-end services for supply chain transformations |
| SYSMAN | Provider of solutions for Outbound Supply Chain Management |
| TPSynergy | Provider of solutions for a shared global view of the supply chain |
| Ubq Technologies | Provider of a downstream supply chain management solution |
| YENNES Infotec | Provider of solution for a consolidated online information for supply nchain business banalytics |
| Zomeds | Provider of SaaS solutions in SCM for Pharmaceutical Distribution segment |