20 Most Promising SCM Technology Solution Providers 2017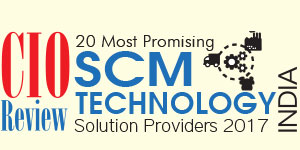 Today, Information Technology is considered a prerequisite for effective management of the complex supply chain. IT has found its importance in different areas of supply chain management largely categorised into- transaction processing, supply chain planning and collaboration, and order tracking and delivery. Prior to the entry of IT into the logistics management, vendors faced the brunt of the absence of effective tools to maintain transaction, connecting stakeholders, tracking delivery, easing documentation process, among others.
With SCM Technology in the market, logistics management is being monitored with better efficiency and control. Innovative companies have sprung up to harness the power of the IT to revive the logistics experience, making it easier than ever for logistics managers to track and manage shipments, and to serve their changing needs as they reach ever further across the globe to source goods. The solutions and software developed by these vendors have paved the path for the entry of innovative systems for supply chain management. Today, Virtual and augmented reality over voice picking or finger scanners will become integral to real-time product movement, inventory management, and warehouse efficiency.
In this issue, we present to you the 20 Most Promising SCM Technology Solution Providers 2017. The list features some of the best players in this segment who bring unprecedented efficiency along with their signature hallmark to the table. These vendors not only take pride in their complete understanding of the fluctuating domain requirements, but also exhibit an array of solutions that have been developed as a result of their expertise in the area.
We present to you CIOTechOutlook 20 Most Promising SCM Technology Solution Providers 2017.
| | |
| --- | --- |
| 3P Technologies | A provider of platform for SCM that enables companies to make use of real-time supply chain data across stockists, distributors and retailers to reduce financial waste |
| Achilles Information Limited | A provider of supply chain solutions, supplier data management, supplier audit and assessment, supply chain risk management and more. |
| Allcargo Logistics Ltd | A provider of end-to-end supply chain solutions, customised warehousing, supply chain business process integration and more. |
| Applied Decision Technologies | A provider of supply-chain solutions that help bridge the gaps between operations support, logistics, transportation, procurement and customer services. |
| Aqua Logistics | A provider of supply chain consulting, supply chain decision management, logistics management, procurement outsourcing, technology solutions and more. |
| CEVA Freight (India) | A provider of logistics, freight forwarding, contract logistics, transportation, 3PL, distribution, air freight, and ocean freight services. |
| Cybage | A provider of SCM services like supply chain planning, sourcing and procurement, manufacturing, logistics, returns management and supply chain visibility. |
| DHL Supply Chain | A provider of logistics services like feight transportation, warehousing & distribution, brokerage, supply chain solutions etc. |
| FedEx | A provider of supply chain, logistics, distribution, fulfillment, transportation management, consumer goods & contract packaging, returns, recommerce, warehousing services and more. |
| Gati Limited | A provider of supply chain solutions comprising core logistical activities and value-added services such as freight forwarding, customs clearance, inventory management, packaging and labeling,... |
| Globe Express Services | A provider of supply chain consulting, air & ocean freight, warehousing and consolidation, project and heavy cargo services and more. |
| Kale Logistics Solutions | A provider of web based IT solutions for freight forwarding & 3PL, CFS/ICD, warehousing & distribution management system, transportation & fleet management services and more. |
| Logistics Plus Inc | A provider of air & ocean freight forwarding, customs brokerage & trade compliance, direct shipping & fulfillment, managed-transportation solutions, warehousing & distribution, and supply chain... |
| NewAge Software & Solutions | A provider of freight forwarding and logistics software, warehousing, transportation & fleet management, custom clearance & business intelligence product suites and more. |
| ODeX | A provider of IT based shipping platforms like e-Invoicing, e-DO, e-VGM, e-HBL, e-Form 13 and e-Payments. |
| Simext Technologies | A provider of warehouse management, end-to-end supplychain, production, planning, manufacturing, web-based ERP, retail management, CRM services etc. |
| Skylar Technology | A provider of SCM solutions using Oracle E-Business Suite Supply Chain Management that automates supply chain processes, from design, planning and procurement to manufacturing and fulfilment. |
| Synise Technologies | A provider of logistics, procurement and warehouse management services. |
| TCI Supply Chain Solutions | A provider of supply chain design & engineering, lead & specialised logistics, warehouse management, yard management, information management, records management services and more. |
| UPS Supply Chain Solutions | A provider of supply chain solutions like logistics, distribution, transportation, freight, consulting, customs brokerage, and international trade services. |