20 Most Promising SCM and Logistics Solution Providers-2015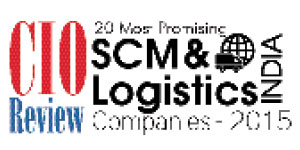 With an estimated spend of 13 percent on Logistics, the Indian Logistics industry grows at 1.5-2 times the GDP growth. Reports state that in the last five years, the sector's growth has been estimated to be at the rate of a good 15 percent. Similarly, the retail sector and the Supply Chain Management sector are now experiencing an all-round boom that is revolutionizing the customer demands. The Government of India, noticing the importance and the accelerated growth of the Logistics and SCM domain, has take initiatives for the betterment of the transport infrastructure within the nation. However, while on one hand the supply chain gets technologically robust, it cannot be denied that supply chain visibility remains on the top of the list among others as a key area for the executives and the supply chain managers. Similarly, even with all the government support and the exhilarated level of growth that the Logistics domain showcases, the domain is still far from being able to keep pace with the rapid strides of e-commerce giants and online firms. Issues that range from the first-mile pickup to transporting a product from a seller to a warehouse, to the last mile touch point, logistics in India is fraught with challenges that the e-commerce companies are attempting to solve.
Understanding this need of the e-commerce companies, CIO Review brings to you the list of 20 Most Promising SCM and Logistics Solution Providers. These vendors not only take pride in their complete understanding of the fluctuating domain requirements, but also exhibit an array of solutions that have been developed as a result of their expertise in the arena. As these vendor companies were closely scrutinized by a panel of judges that encompassed CEOs, CIOs, CXOs, analysts and the CIO Review editorial board, these vendors can be rest assured to furnish means to a faster ROI while aggrandizing your brand name.
We present to you CIOTechOutlook 20 Most Promising SCM and Logistics Solution Providers-2015.
| | |
| --- | --- |
| AdecTec Georgia | A provider of Business Intelligence and Analytics, Supply Chain Demand Management, footprint & network design and procurement optimization. |
| Alfa Supply Chain Solutions | A provider of supply chain management solutions for production, inventory, location and transportation. |
| Atna Technologies | A provider of services like Microsoft Dynamics CRM - Implemetation, Supply Chain Consulting, IT Road Maps, ERP Audits / Gap Fixes and Business Process Analysis. |
| Arkieva | A provider of solutions in Supply Chain Planning, Sales and Operations Planning, Demand Planning and Forecasting, Inventory Planning and Analysis and Supply Planning. |
| Black Soft | A provider of SCM solutions for manufacturing, planning and logistics. |
| Ceva Freight India Pvt Ltd. | A provider of solutions for logistics, freight forwarding, contract logistics, transportation, 3PL, distribution, air freight and ocean freight. |
| Dreamorbit | A provider of consulting services to logistics and supply chain businesses, specialists in customized enterprise solutions for Supply Chain Management. |
| E2Open | A provider of cloud-based, on-demand software solutions for supply chain management, Business Network, collaborative planning and execution. |
| Genius Business Solutions | A provider of solution for SCM, Simplified User experience, Implementation and Support Services, and Extended Warehouse Management (EWM). |
| Helium Consulting | A provider of solutions for Supply Chain Planning, Manufacturing Management and Optimization, Advanced Process Control and Manufacturing Execution Systems. |
| Indsoft Software technologies | A provider of SCM solutions for Replenishment, Inventory and Distribution Optimization along with solutions for Retail Management and Production Management. |
| IBC - Cube | A provider of Resource Management Solutions for Logistics & Supply Chain Management Companies using IoT, Big Data and Cloud Technologies. |
| Kamatsoft | A provider of ERP solutions and SCM solutions for Demand Planning, Material Scheduling, Distribution Scheduling & Supply Chain Planner. |
| LogiNext Solutions | A provider of solutions for Real Time Tracking, Logistics Analytics, Comprehensive Solutions and Complete Integration of processes. |
| LogixGrid | A provider of services like Direct Store Delivery, ERP For Courier Companies, ERP for Logistics Service Providers and Enterprise Mobility. |
| PCL Logistics Pvt Ltd. | A provider of solutions for Total Supply Chain and Inventory Management,Logistics Services, Transportation Services, Pre-Delivery Inspection and Plastic Bins Rent Services. |
| Planvisage Software | A provider of solutions for Supply Chain Management (SCM), Logistics and real-time supply chain problems. |
| Sarathi Solutions Pvt Ltd. | A provider of solutions for Supply Chain Management and WAMS that includes Complete Warehouse Solution, Order Management and Inventory Management. |
| Steelwedge Software | A provider of solutions for Sales and Operations Planning, S&OP, Integrated Business Planning, Demand Management and Supply Chain Planning. |
| Value chain solutions | A provider of solutions for SCM, Inventory Managemnt, Logistics Management, MR Reporting and Warehouse Management. |